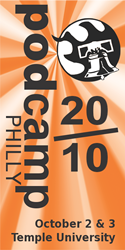 PodCamp never fails to deliver, even when I can only make it for half a day.
Many thanks and best of luck to everyone who attended my session, Advanced Business Development for Authors.
Writing a book is tough. Getting a book deal is tougher. But marketing your book online can be like shooting fish in a barrel when you know how to use the tools at your disposal, so I hope I was able to help with that last bit.
For those who were unable to make my session, here's a link to the handout, Social Media Starters for Authors.
Feel free to contact me if you have any questions or need any help, and don't forget to write every day!
Connect with me on Twitter here: @donlafferty
Connect with me on Facebook here: www.facebook.com/phillydon
And for a treasure trove of tremendous advice for writers, check out the Liars Club here: For Writers